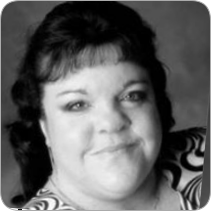 ROSALEEN MORIATY-SIMMONDS OBE
Rosaleen (Rosie) Moriarty-Simmonds OBE is an acclaimed businesswoman, author, artist and Disability Rights campaigner. Born in 1960, Rosie's impairment is four-limbed Phocomelia caused by the drug Thalidomide.
After graduating with a BSc. (Hons) Degree in Psychology from Cardiff University, Rosie joined the Civil Service before forming the RMS Disability Issues Consultancy out of a genuine desire to deliver first-class training in the field of Disability Equality and Disability Issues. A passionate advocate for absolute equality for Disabled People, Rosie works to promote the Social Model of Disability throughout, working with local, regional, national and international educational, public, private, charity and community groups to champion equality and diversity.
Married, with one son, Rosie has a particular interest in radio, television and the arts.  She is a Trustee Board Member for the National Theatre Wales and a Proud Patron of Flamingo Chicks.